Comparable store sales at a number of public eatertainment companies are showing increases, indicating an increase in consumer spending at community-based entertainment-oriented venues.
Chuck E. Cheese's (CEC Entertainment) reported that their comparable stores sales increased 3.9% for their fourth quarter and 1.5% for all of 2010. By month, the 4th quarter saw the following increases: +3.5% October, +6.2% November and +2.3% December. Here's the breakdown by region of the country: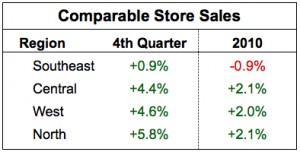 Main Event, the operator of hybrid bowling-entertainment centers in Texas, reported a 14.5% increase in comparable store sales during the last half of 2010, with events business up 30% and walk-in business up 10%.
Dave & Buster's, the operator of centers targeting young adults, saw a 1.5% increase in comparable store sales during their 4th quarter. Since their 4th quarter ended January 30, 2011, whereas Chuck E. Cheese's and Main Event's fiscal years ended at the end of the 2010 calendar year, D&B's slower sales growth reflects the negative impact of the bad winter weather during January.