There is a long-term trend in the U.S. that started many years before the Great Recession of an increasing share of out-of-home entertainment venue spending shifting to higher socioeconomic households. Between 2000 and 2010, the top 20% of households by income ($92,000+) grew from 42% to 49% of all community-based inflation-adjusted entertainment spending and from 44% to 52% of all entertainment spending on trips.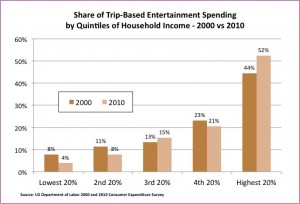 The bottom line is that to succeed in the U.S. venue-based entertainment industry, you have to target and attract the upper socioeconomic households since the out-of-home entertainment spending pie is now smaller and that group owns the largest piece. These are consumers with lots of out-of-home entertainment and leisure choices and with discriminating tastes and expectations. They have high expectations for customer service, food, cleanliness, just about everything. The bar is higher than it has ever been and will likely continue to go up.
Also check out our 2010 in-depth article on The increasing social stratification of out-of-home entertainment and leisure.