Family Entertainment Center Experience
The White Hutchinson Leisure & Learning Group is recognized throughout the family entertainment center (FEC) industry for our quality and innovative designs of successful FEC projects. FECs we have designed and produced have won the following design awards:
Best hospitality interior - 2010
Best leisure project design - 2010
Best hospitality interior - 2008
Best new foreign family entertainment center - 1994 and 1996
Best new family entertainment center - 1998
Best children's edutainment centers - 1999, 2000 and 2001
Best new bowling center interior - 1990 and 1995
Best lounge/eatery - 1990
Best new bowling center billiard area - 1990
Best commercial restrooms - 1990
Our services not only include all aspects of family entertainment center design, but also FEC market and financial feasibility, site selection, concept development, brand development, equipment specification and procurement and assistance with all aspects of FEC management start-up.
Our FEC feasibility and design experience includes the following projects (also see children's entertainment/edutainment project experience, eatertainment project experience and bowling center experience):
Da Nang City, Vietnam FEC

Handling full design and production of this 157,000 SF (14,600 SM) multi-attraction entertainment and restaurant complex that includes:
This family entertainment center is scheduled to open in early 2014 following Tet.
Middle East mall
Working with the developer of a new 250,000-square-meter mall in the Arabian Gulf region of the Middle East with how to best integrate and design entertainment into the mall's overall design and the type of entertainment and attractions that should be offered for both families and adults. There will be 10,000 square meters of indoor and 17,000 square meters of outdoor entertainment not including a large cinema,
Club Mais, Luanda, Angola
Angola, and especially its capital Luanda, has one of Africa's fastest growing economies. Completed full market and financial feasibility and design for a hybrid bowling and family entertainment center in this rapidly growing African Country. The 5,000-square-meter indoor FEC will include a restaurant, bowling, a large gameroom with bumper cars and Ballocity, two private VIP bowling suites, and multi-purpose meeting rooms. Outdoor there will be go-kart tracks and an outdoor group/party pavilion that can accommodate up to 300 people.
Catfish Bend Casino & Fun City (Pzazz), Burlington, IA
Completed full designs for renovation of the Huck's Harbor indoor waterpark. Half is being renovated as a dry expansion of the Fun City family entertainment center to include a combination Ballocity and soft play structure, a ropes course that will also include a tykes ropes course and birthday party areas. The other half of the waterpark is being totally rebuilt and will including a children's area with an interactive play structure, adult area, a current channel and hot tub spa area. The project will open in late 2012.
Achrafief Mall, Beirut, Lebanon
Designing a new family entertainment center for Beirut, Lebanon's most upscale mall. The FEC will include attractions never introduced to Beirut and will take advantage of the vertical store space to maximize both entertainment value and entertainment capacity.
India
Conducting market analysis and developing concept and brand for a chain of family entertainment-edutainment centers to be located in malls throughout India.
Twenty3's, Las Vegas, Nevada
Conducted full market and financial feasibility study, concept and brand development for a 37,000 square foot hybrid bowling center/FEC with a destination restaurant.
Accra, Ghana
Conducting market feasibility study and concept development for a family entertainment center (FEC)
Greater Tacoma, WA metro area

Competed market and financial feasibility study and developed designs for a 52,000 square foot bowling-based family entertainment center (FEC) that will include a destination family restaurant.
Boondocks Fun Center, Meridian, Idaho
Working with the new owners of this established family entertainment center on market and financial feasibility, a long term master plan and design of a major building expansion to include family bowling, other family attractions and a destination restaurant.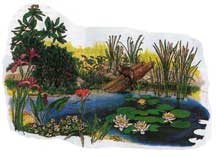 Funtropolis, Jacksonville, Florida
White Hutchinson is working on the development of a concept we are calling a "family lifestyle center" in Jacksonville, Florida. The 75,000 square foot, 11-acre facility, named Funtropolis, will feature:
A 500-seat all-you-can-eat pizza, pasta and salad buffet restaurant
An indoor and outdoor family entertainment center (FEC)
A children's edutainment center including a café bistro, indoor edutainment, enrichment workshops, an adventure play garden and a water playground
A celebration area with multi-purpose rooms, birthday party rooms and a group pavilion.
Earlier in 2003, WHLLG assisted the client with an area wide analysis of the Jacksonville metropolitan market; determined the market sweet spot for the project; evaluated potential sites; conducted detailed market analysis, attendance and pro forma financial projections and developed preliminary plans and cost estimates. WHLLG is currently assisting the client with acquiring the required financing.
Metro East St. Louis, IL
Completed preliminary plans, financial projects, cost estimates and preliminary building exterior for a 22,500 SF children's edutainment center that will include an outdoor adventure play garden, water play ground and nature area.

Paradise Park, Lees Summit, Missouri
The ten-year old Putter's Paradise family entertainment center retained WHLLG to act as designer, producer and management consultant for its $7.0 million renovation and expansion that includes a new 38,000 square foot building featuring both family entertainment and children's edutainment areas, an outdoor children's adventure play garden, a go-kart track, miniature golf, batting cages, and picnic ground. The new facility held its grand opening in April 2004. ( click here to learn more )
York, Pennsylvania FEC
WHLLG recently completed a market feasibility study and is preparing preliminary plans and assisting client with lease negotiations for a 31,000 sf FEC to be located in an enclosed mall.
Regina, Canada
Completed preliminary market feasibility evaluation and site selection for an indoor/outdoor children's edutainment center.
Johnny's Toys, Covington, Kentucky
WHLLG conducted the feasibility study, completed full designs and specified all equipment for the 9,500 sf indoor, 20,000 sf outdoor children's edutainment center named Tottter's Ottervilleto that has been incorporated in Johnny's Toys new 45,000 sf toy store that opened in late 2001. This is the world's first edutainment center to be incorporated in a toy store. Our design work also included design of a cafe for the toy store, another first for toy stores. (To Learn More Click Here...)
Sana'a, Yemen; Yemen Trade Center
The owners of the Sana'a Trade Center, the only modern mixed-use retail, office and apartment project in Sana'a, Yemen, retained WHLLG to conduct a feasibility study and develop plans for a three-story, 45,000 sf addition to the Trade Center which will include a family entertainment center, a celebration/hospitality hall, two cafes and a restaurant and an outdoor plaza and children's adventure play garden.
Niagara Falls, Canada
HOCO Limited retained WHLLG to evaluate feasibility and design plans for a new 65,000 square foot indoor FEC which will be located in the popular Clifton Hill tourist area of Niagara Falls, Canada.
Fortune Bay Resort & Casino, Tower, Minnesota
WHLLG was retained by this Vermilion Lakes area resort, owned by this Bois Forte Band of Chippewa, to conduct a feasibility study on development of a free-standing family entertainment center.
Fallsway Resort Complex, Niagara Falls, Ontario, Canada
WHLLG was hired by the owner of a 31 acre resort that includes 455 rooms on Clifton Hill, the heart of the tourist area adjoining Niagara Falls, to help them evaluate feasibility, develop an overall brand identity and master plan for the property and develop a themed 85,000 SF location-based entertainment center that will include a state-of-the art 3-D simulation theatre along with other anchors and 150 games with an adjoining outdoor family entertainment area and a 2nd level 240 seat adult entertainment restaurant.
Frankenmuth Bavarian Inn & Lodge, Michigan
The owners of this popular destination 1.5 hours north of Detroit selected WHLLG to integrate entertainment into their new River Place project, a 90,000 sf European-styled retail village. Frankenmuth currently enjoys over 1.5 million annual visitors. WHLLG completed a feasibility study and developed preliminary plans for a 25,000 sf integrated EuroMarket Bistro restaurant and family entertainment center for the project.
LouLou Al Dugong's, Dubai, U.A.E.
WHLLG designed and produced this 25,000 sf, $3.1 million children's edutainment center that opened May 2000 in Lamcy Plaza, one of the world's largest department stores. WHLLG developed a culturally-based theme for the center that embraces the multi-ethnic composition of the population, the area's heritage as both an Arab culture and an international trading port and local children's environmental values. The center's storyline is about a mascot character named "LouLou al DugongT" (Pearl of the Sea Cows) after the endangered Persian Gulf dugongs (related to manatees) and the city's pearl diving heritage. WHLLG's work included all aspects of design, production and management, including screening and training staff. (To Learn More Click Here...)
Brunswick, Maine Naval Air Station FEC
WHLLG recently completed design of the U.S. Navy's first family entertainment center to be constructed at the Brunswick, Maine Naval Air Station. The center will contain over 20,000 sf and include bowling, a children's entertainment area, a food court, games and a multi-purpose area. Outdoors there will be a zero-depth water playground and two dry playground areas. The center will open in the summer of 2001. (To Learn More Click Here...)
Frankenmuth Bavarian Inn and Lodge, Michigan
The owners of this popular destination 1.5 hours north of Detroit have selected WHLLG to integrate entertainment into their new River Place project, a 90,000 sf European-styled retail village. Frankenmuth currently enjoys over 1.5 million annual visitors. WHLLG is currently designing a themed restaurant and 35,000 sf family entertainment center for the project, in addition to advising the owners on additional entertainment components for their existing restaurant that serves over 5,000 white table cloth meals on a busy day, and the 354 room lodge that includes a large multi-pool family fun center.
Badajoz, Spain, Family Aquatic & Entertainment Park
WHLLG recently completed feasibility and preliminary design for a 23 acre project called "Parque de Attraciones de Badajoz"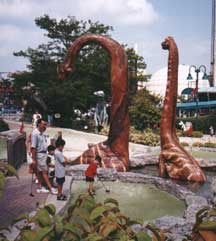 which will be combination 'dry' family entertainment center and a water park targeted to families with children toddlers to teenagers. Due to the parks location one kilometer from the Spain/Portugal border, an important cultural consideration will be a design that appeals to both Spaniards and Portuguese, traditional rivals. This and other cultural considerations will be addressed through both a values-based storyline and design theme and the food and beverage selections at a destination restaurant. The mix and theme of the park will also incorporate a strong educational and cultural component.
Happy Hampton, Hampton Beach, NH
WHLLG is currently working with this established 11,000 square foot boardwalk game facility to develop plans to expand it to 40,000 square feet as a year round visitor and resident family entertainment attractions.
FEC, Greater Washington, DC area
We worked with a client on development of a 70,000 sf indoor, 1.2 acre outdoor family entertainment center to feature bowling as one of its anchor attractions.
Bonkers, Peabody, Massachusetts
The new owners of this 25,000 sf family entertainment center have retained WHLLG to assist them with renovation and expansion design.
XPlosion Family Leisure & Learning Center, Puerto Rico
WHLLG has been selected to assist with the design of this new 280,000 square foot indoor/14 acre outdoor FEC type center. The center will include upgrading and expansion of an existing waterpark, ice and roller rinks, bowling, an indoor FEC with multiple anchors, a children's edutainment center, a children's learning center, an adult entertainment center, iWERKS theater, baseball training center and outdoor attractions. WHLLG has completed market and financial feasibility studies and concept plans.
Bamboola™; San Jose, California
WHLLG was the designer/producer and consultant for this new 28,000 s.f. children's edutainment center that opened in June 1997 to rave press reviews as the most child and parent friendly center in America. In early 1995 WHLLG completed feasibility and concept plans that led to the center's successful equity funding. WHLLG developed and designed many innovative features including an outdoor children's adventure play garden with a dinosaur dig, interactive cooking, grandmother's attic, a pretend play village with a tree house, interactive water play and five age-appropriate art studios. Bamboola won the 1998 Newsmaker Award for the best new family entertainment center. Click for more information about Bamboola.
Dinotropolis™; Caracas, Venezuela
WHLLG was the development consultant, producer and collaborative designer for this new 60,000 s.f. children's entertainment center that opened July 1996 in Caracas, Venezuela. The center was designed as a Play Palace on the planet of Gemini, inhabited by a civilization of dinosaurs. WHLLG developed the center's storyline, name, characters and theme; oversaw the center's entire design and selection, sourcing and coordination of the installation of all entertainment events and is continuing to assist with operations and management consulting. The center features the world's first roller coaster that goes through the middle of a soft modular play unit. It also includes a children's maze, interactive water play, a hands-on/discovery area for preschoolers and six birthday party catering suites. Dinotropolis won the 1996 Newsmaker Award for the Best New International FEC. Click for The Story of Dinotropolis.
Family Entertainment Center; Greater Nashville, Tennessee Area
WHLLG originally performed a market feasibility study with strategic and mix recommendations, concept development plans, cost estimates and pro forma for a 30,000 s.f. addition to and renovation of an existing 40,000 s.f. bowling center. The first phase of the complex included renovation of the Hermitage bowling center, construction of The Finish Line, an adult cafe and lounge FEC, and the game room and birthday party portion of Kelly Rae's FEC. Kelly Rae's is scheduled to be expanded to include a gated children's entertainment center, a maze, bumper karts and a Himilaya. WHLLG handled the feasibility, concept development and full design of the project.
Richmond Sports Park; Richmond, Virginia
This seven-year-old center includes a driving range, miniature golf, batting cages and clubhouse. In 1993, WHLLG performed an evaluation of the center, developed renovation plans for the clubhouse and assisted with game room operation. The owners later retained WHLLG to develop a concept plan, cost estimate and feasibility study to renovate and expand the FEC to include go-karts, bumper karts and an outdoor children's pay-for-play area.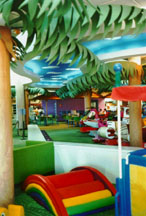 Wol-Ha FEC; Cancun, Mexico
This $7 million, 35,000 s.f. enclosed family entertainment center opened December 1994 to serve the residents of Cancun. WHLLG served as development consultant and designer. The center includes 20 lanes of bowling, a McDonald's and second restaurant, a large children's pay-for-play facility, a game room and party facilities. Wol-Ha translates to The Island in Mayan. Wol-Ha won the 1994 Newsmaker Award for Best International FEC. The owners have since retained WHLLG for on-going operations, evaluations and consulting and to assist them with development of additional Latin American FECs.
Carrousel Park; Overland Park, Kansas
Assisted Fun Factory¨ chain with development of their new 27,000 s.f. children's center concept. Services include consulting on marketing and pricing strategies and assistance in search and screening of management personnel.
Skateland Playdaze; Omaha, Nebraska
Prepared full conceptual development plan including feasibility, design and cost for this new 18,000 s.f. pay-for-play children's center addition to an existing roller skating center. The addition was designed to fully and synergistically integrate with the roller rink.
Qatar, Children's Leisure, Learning & Cultural Center
WHLLG completed a market and financial feasibility study, cultural studies and concept plans for this Gulf state's first children's leisure, learning and cultural center. Unlike conventional Western family or children's entertainment centers, the center is planned to include more than just entertainment. Learning through play, scheduled workshops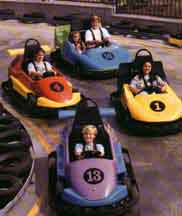 and discovery experiences, traditional artisans, artists and cultural events, and a model day care facility are planned as an integral part of the center's mix.
StarTime FEC, Atlanta, Georgia
This 77,000 square foot, 10 screen cinema and indoor and outdoor FEC complex is being constructed in the Roswell area of Atlanta. StarTime Cinemas retained WHLLG to develop a concept plan for a children's edutainment and birthday party area to be called Oakie Dokie's Rainbow Hollow™ and to evaluate outdoor opportunities for children's entertainment and play.
Denver, Colorado FEC
WHLLG completed a market feasibility study and mix recommendations for a 50,000 square foot indoor FEC that will be developed in conjunction with two indoor ice rinks, a driving range, a nine-hole golf course and a miniature golf course.
Malibu Entertainment Worldwide
In 1996, The Hampstead Group, the new investors in the Mountasia/Malibu Grand Prix chain of 46 outdoor FECs, retained WHLLG for evaluations, market research and strategic planning for development of a new FEC prototype targeted to a narrower niche market than the existing centers. Three of the new prototypes called Malibu SpeedZone have now been built. They are targeted to young adults and feature four racing experiences: drag racing, competitive Grand Prix racing, slick track and go-karts; miniature golf and a 21,000 s.f. clubhouse. In 1997, Hampstead retained WHLLG to conduct evaluations of the new prototype and recommend improvements for the second generation of centers.
Bethpage, Long Island, New York
WHLLG completed a market feasibility study and mix recommendations for development of a 240,000 square foot indoor family entertainment center in a former aircraft manufacturing facility.
Adult Entertainment Center; Caracas, Venezuela
The owners of Dinotropolis retained WHLLG to develop concept plans and development recommendations for a 55,000 square foot adult entertainment center to be developed in an existing shopping mall.
South Carolina FEC
WHLLG prepared a master plan for development of a 40-acre indoor/outdoor FEC in South Carolina.
Baton Rouge, Louisiana FEC
The developers of a new FEC to be built in Baton Rouge selected WHLLG as the designer, producer and consultant for the project. WHLLG has completed the initial market feasibility study and is assisting the owners with site selection.
Wol-Ha renovations; Cancun, Mexico
The owners of Wol-Ha, which WHLLG designed in 1994, retained the company to design renovations to the children's area which will be completed in September 1997.
Rabat-Sal, Morocco, Africa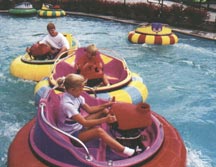 WHLLG conducted the market feasibility study and prepared a concept plan and cost estimate for a new children's leisure & discovery center in Rabat-Sal, Morocco. It will be that country's first family entertainment center. The project will target children between 2 and 9 accompanied by their parents.
Greater New York Area Urban FEC
WHLLG completed a feasibility study and strategic concept plan for development of an urban-based 150,000 square foot family entertainment and leisure center.
Sports Plus; Long Island, New York
This 170,000 square foot indoor FEC opened in September 1996 and includes 32 lanes of bowling, an events center and an ice skating rink. WHLLG is assisting the owner with post-opening evaluations and renovation recommendations and plans.
Alpine Funtier; Ft. Collins, Colorado

In 1993 the owner retained WHLLG to conduct an expansion feasibility study for this outdoor miniature golf, go-kart and bumper kart facility. They then hired one of the "big name" FEC architectural firms to master plan the expansion. The owner fired that firm and retained WHLLG to prepare a new feasibility study and master plan for the expansion.
Family Entertainment Center; Bend, Oregon
WHLLG completed the market and economic feasibility study and concept plans and cost estimate to expand the Sun Mountain 24-lane bowling center as an indoor/outdoor FEC including miniature golf, go-karts, a maze and a children's adventure play garden.
Fairway Golf Center; Piscataway, New Jersey
This facility includes a 140 tee driving range, miniature golf, batting cages, go-karts and a clubhouse including a restaurant, golf learning center, golf simulators and pro shop. Performed comprehensive evaluation including guest surveys and market feasibility study for revenue enhancement and expansion. Developed master redevelopment plan, cost estimates and projections as well as worked with management in a consulting role to develop an integrated guest database/information system and guest obsessed organization.
Pay-for-Play Children's Center; Northern Massachusetts
Performed feasibility study and recommended that owner not proceed with development.
Joker's; Portland, Maine
Conducted parking needs study and testified at variance hearing which permitted client to proceed with development of a 24,000 s.f. family entertainment center.
Manama, Kingdom of Bahrain
Conducting feasibility and developing designs for a Bahraini lady entrepreneur for development of a 2,500 square meter indoor children's edutainment (play and discovery) center with 3,500 square meters of outdoor play garden and spraygrounds.
Jeddah, Kingdom of Saudi Arabia
Assisting the Al Hokair Group with design, operations consulting and curriculum development for Smart Kids in Jarir Mall. Smart Kids is a new concept that includes walk-in children's enrichment workshops, a children's play and discovery (edutainment) pretend village, games, a toy store and a coffee shop.
Doha, Qatar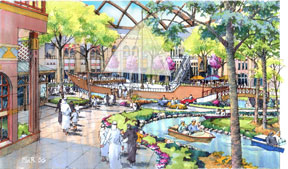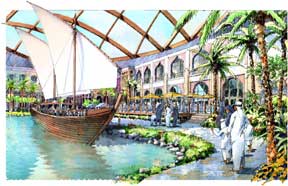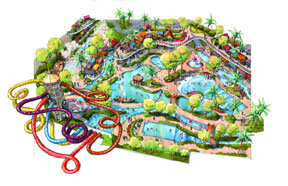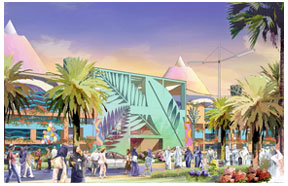 Completed a market and economic feasibility study, master plan, preliminary plans and renderings for development of an 80,000 square meter family leisure project targeted to Qataris and Gulf Arabs that includes retail, restaurants, cinemas and theater, family entertainment, children's edutainment, offices, ladies club and spa, teenage girls club and a children's enrichment center.
Also see eatertainment project experience and children's project experience.
Additional family entertainment center clients have included:
In addition to the above projects, WHLLG has performed site evalutions, market and economic feasibility studies, designs and/or acted as consultant for over 50 additional family entertainment center clients