Last week while I was attending the IAAPA convention, I had a chance to visit the new Dave & Buster's on International Drive in Orlando, Florida with some colleagues. It's on the property previously occupied by the Race Rock restaurant, which was demolished to make way for the construction of Dave & Buster's. This 58th Dave & Buster's is a radical departure from the look, layout and decor of earlier Dave & Buster's that today look very dated with their dark wood and brass finishes. This one was bright and contemporary in design.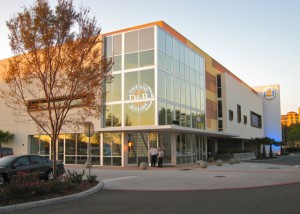 The facility is about 40,000 square feet on a second level with parking below it on the ground level. You enter up a massive set of stairs with 24 steps that seem to go on forever. The steps are solid concrete and a little on the steep side for such a long flight of stairs. Unfortunately I believe there will be some serious injuries based on the stair design for customers who descend them after a good dose of alcohol. This is the only 2nd floor entertainment facility of this size that I have ever visited that didn't have escalators. There was an elevator, but it was completely hidden out of sight and was out of order when I visited.
The facility is basically divided into four areas – at the entrance, a large bar and lounge area (all tables and chairs), to the right is the restaurant, to the back is the massive gameroom with 170 games and at its far left back the redemption store. To the right of the gameroom are three private rooms that can be combined for groups of up to 200.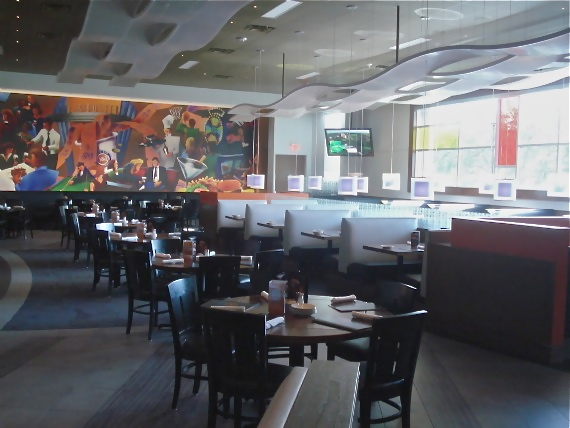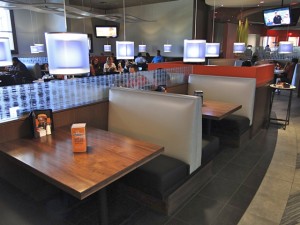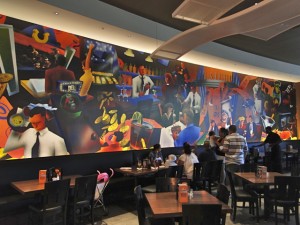 We didn't play any of the games, but the selection was new and extensive. It seemed like the sound level of all the games was turned to maximum, making conversation in the gameroom difficult. I couldn't see any acoustic treatments that addressed either sound absorption or reverberation reduction. The metal roof deck appeared exposed.
The one thing that struck me as strange in the gameroom was the four Big Bass Wheel games banked up immediately next to each other along a wall. That arrangement resulted in what is usually a very visual and noticeable game when placed in the open losing all its impact. My guess is that the four Big Bass arranged that way achieve less revenue then what two of them would earn placed separately in the open.
We decided to check out the food at the restaurant since it was early in the evening and it wasn't crowded. Being wine drinkers, we decided to order wine. Despite the growing popularity of wine, there were only two mid-quality red wine selections whether by the glass or bottle, a Cabernet Sauvignon and a Merlot. When it came to whites, there were three mid-quality selections plus a Zinfandel blush selection. Beers were a different story; there were 26 selections. The limited wine selection and broad beer selection indicates to me that Dave & Buster's is not trying to attract an upper socioeconomic nor a 40's plus crowd.
We ordered one appetizer to share. We thought we were playing it safe ordering pretzel nuggets with three dipping sauces. The order came with the pretzel nuggets coated with excessive butter that was dripping out of the bottom of the container holding the nuggets. The nuggets looked like pretzel nuggets but tasted like dough nuggets. There was no pretzel taste to them. Just after starting our nugget tasting the manager came by to see how things were. We told him about the nuggets. He didn't taste them but agreed they should not have been drenched in butter. So he took them away and ordered us new ones. The new ones didn't have the excessive butter problem and maybe had a little hint of pretzel taste, but they would never pass for pretzels.
As a main course one of us had a salad, one a pasta dish and I had salmon. The salad was fine, the pasta so-so, my fish was good but the side of vegetables was minimal and not hot. For dessert we shared a pecan-topped cheesecake that was acceptable. Overall we rated out total meal experience a notch below going to a Ruby Tuesdays whose food we felt is far superior to what we had at D&B. Based on quality, we thought everything was overpriced.
That sure doesn't speak well for Dave & Buster's, to not even be on par with mid-level causal dining restaurant chains. They might be able to get away with that on International Drive in Orlando where you're dealing with a tourist market rather than a resident customer that you need to get repeat business from. If this is the new model Dave & Buster's plans to role out in residential markets, they have a long ways to go if they expect to become known as a good value dining destination, especially in light of the impact the recession has had on raising the bar on consumers' dining out value expectations.
During their financial quarter ending July 31, 2011, Dave & Buster's reported that their cost of goods for food and non-alcoholic beverages was 24.3%. That is lower than the non fast food restaurant industry standard of around 30%. For Dave & Buster's, based on our visit, the result of their costing formula is that the quality of their food is not up to the price they charge.
Their menu offers a number of Eat & Play combos where you get a $10 game card with the meal. I did a quick calculation and found that the combo price was about $6 more than the stand-alone meal price. Based on D&B's cost of goods sold for games, that means the $10 game card costs them about $1.60, so they are increasing their profit by $4.40 plus priming the pump to get customers to play their games.
Perhaps by packaging meals with entertainment, no different than what Chuck E. Cheese's does, customers buying a combo deal don't arrive at the same value conclusion we did for a stand alone meal's price versus its quality; rather the Eat & Play combo is perceived as a discounted deal, a good value for deal-hunting customers.