During the past five years, the Restaurant Marketing Group (RMG) at the ZenMango market research firm has been conducting the Leaky Bucket Survey of 160 different restaurant chains. The survey is conducted each March with more than 5,000 consumers aged 18 to 64 and measures the size of the customer leak or defections, meaning the percentage of recent customers who report they are unlikely to return to a particular eatery. The percentage is based on customers who are less than 50% sure they will return. The lower the score, the better the particular restaurant chain is at retaining customers and creating repeat business. The higher the score, the more customers the restaurant is loosing, and likely, the higher its rate of bad word-of-mouth.
RMG classifies leaks in three categories:
• Moderate Leak: <20% of total customer base leaking • Big Leak: 20%-30% of total customer base leaking • Extreme Leak: >30% of total customer base leaking
During the recession, customers became more discriminatory in their dining-out choices and leaky bucket scores increased. For all restaurants surveyed, in 2008, 29% of customers were unlikely to return. That climbed to 36% in the heart of the recession in 2009, fell to 32% in 2010 and is down to 30% this year.
Chuck E. Cheese's is one of the restaurant chains surveyed. Their bucket is really full of leaks with 46% of customers in 2011 saying they are unlikely to return, up from 32% in 2008. The 2011 score is 58% higher than the restaurant industry as a whole and is in the extreme leak category according to RMG. Among pizza chains, the next highest leaky bucket score is CiCi's Pizza at 34%. In fact, it looks as if Chuck E. Cheese's has the highest leak percentage of any restaurant chain in the survey and is amongst a very small minority who did not improve their leak percentage in 2011.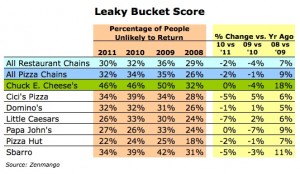 As I reported in my blog in March, CEC is rolling out a new enhanced pizza with a crispy crust. The dough will be made fresh in the stores and the pizzas will feature real mozzarella cheese in large blocks that will be grated fresh. I would speculate that one reason for CEC's high leak rate is that parents don't like their food. We hear this from adults constantly, how bad they think the pizza is. It will be interesting to see if their new pizza results in their leaky bucket score improving next year.
For more about how to fill the holes of a business' leaky bucket, check out my article, The Only Five Ways to Grow Your Business.