---
The $19 apple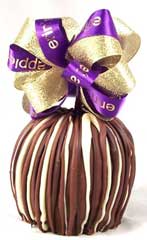 Erin's Original Triple Striped Chocolate Carmel Apple
One of our clients told us of his goal of selling the $5 apple. Well, he may be too late; the $19 apple is already here. Yes, that's right. This year, Williams-Sonoma introduced a line of Halloween-themed apples wrapped in dark chocolate, some weighing in at more than 2 pounds. Selling for $19.50, it's meant to serve 17 people at 140 calories a slice. We'll never see that apple offered by WeightWatchers.
Williams-Sonoma was not the only company offering apple gluttony this year. Erin's Gourmet Apples offered the Original Triple Striped Chocolate Carmel Apple for $16.95 (1.5 pounds each) and the Boo! Apple for $18.95.

Amy's Candy Kitchen Belgian Chocolate Dunked Caramel Apples
The Wall Street Journal reviewed some of the gourmet candy apple offerings in the October 14 issue (heck, business people like candy apples, too!). They rated both Amy's Candy Kitchen's Gourmet Pecan Turtle Caramel Apple with Dark Belgian Chocolate ($13.99 each) and Gourmet Dark Belgian Chocolate Dunked Caramel Apples ($12.99 each) the best overall, saying they "struck the right balance between tart and sweet," being "sinfully rich, thanks to the dark chocolate, with the sweetness nicely offset by the tart apple ... individually packaged in classy boxes." www.amyscandykitchen.com
So, you artisan candy apple chefs, now's the time to start developing your gourmet candy apple offerings for next Halloween.
---