---
Herd Rock Calfé expands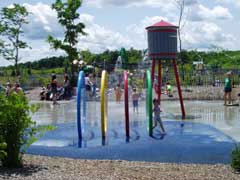 Davis' Farmland, a children's discovery farm and adventure maze in Sterling, Massachusetts, has been a continual client of ours since we performed the original market feasibility study and developed its master plan 12 years ago. Over the years, we have worked with Larry, Doug and their father, John Davis, on growing the business, restructuring management and adding new attractions. When the operation outgrew its facilities in 2000, we conducted the feasibility study and developed plans for a major expansion area called Adventure Spray 'n' Play that opened in 2002 and introduced New England's largest children's spraygrounds. That expansion included adding a second food service facility to the already successful Herd Rock Calfé. The name? The Udder Herd Rock Calfé.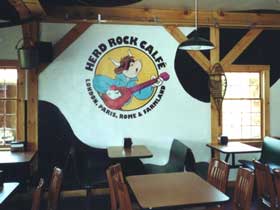 The business has continued to grow, putting increasing pressure on the two food service areas. Once lines get so long, guests will forgo purchasing food and drinks, and potential sales and profits are lost. This decreases per capita food and beverage sales at a facility with increasing attendance, because the food service facilities become inadequate to meet peak demand periods.
This past fall, Randy White, our CEO, visited Davis' Farmland for an evaluation and planning consultation. During the trip, he reviewed with the Davis' the throughput issues they were facing at peak times with the food service and ice cream areas. Plans were developed for expanding the counter area and number of ice cream windows at the original Herd Rock Calfé and developing a permanent outdoor barbecue food shelter to be operated during peak lunch times. The Herd Rock Calfé expansion necessitated taking over the adjoining gift shop area and constructing a new gift shop, called Cow-lectible, and exiting area. While heavy New England snows this winter prevented exterior work on the farm, Doug Davis and his construction crews were working hard on completing the Herd Rock Calfé renovations and expansion.
| | |
| --- | --- |
| | |
| Doug Davis works over the winter on renovations to the Herd Rock Calfé to prepare for its spring opening | The newly renovated service area in the original Herd Rock Calfé. |
---