Vol. VIII, No. 2, April/May/June 2009
---
---
10 Steps to a Successful Children's Garden Project
Are you getting ready to start your garden project with children? These projects elicit a great sense of wonder and excitement for children -- if you follow the easy advice listed below:
Pick a perfect site. You will need a spot that receives at least eight hours of sun every day.
Gardens come in all sizes and shapes. Start small, so that your first efforts are positive for both you and the children.
Feed your soil. Rich garden soil contains plenty of organic matter, so be sure to add it to your soil. Or better yet, use leftover lunch scraps to make compost.
Choose plants well-suited to your region and growing season. Check with local nurseries and the Cooperative Extension office in your area for information. Some businesses may even donate seeds or plants for your garden.
Get off to a good start with easy-to-grow crops. Cucumbers, zucchini, leaf lettuce, snap peas, summer squash, peppers and Swiss chard are all easy to grow.
Give your plants a good start. Wait until the danger of frost has left your area before planting. Water your plants just as soon as they're in the ground.
Make the most of your space. Most children do better with raised garden beds that are only 18' across. Experiment with inter-planting. Surrounding tomato transplants with snap peas, for example, saves space.
Regularly patrol for pests, but do NOT use pesticides. Children should not be exposed to these neurotoxins. Instead, remove bugs by blasting them with water or picking them off by hand.
Teach children how to harvest gently. The more you harvest, the more plants produce - if you remove the produce carefully. Yanking produce off the stems can cause damage.
Make sure children have the right clothing and gear. Everyone will need child-size garden tools and clothes that can get dirty and sun protection. You can always get extra clothes from thrift shops if parents cannot supply them. And don't forget the sun protection!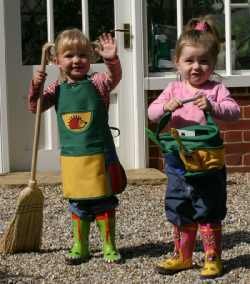 Vol. VIII, No. 2, April/May/June 2009
---
---